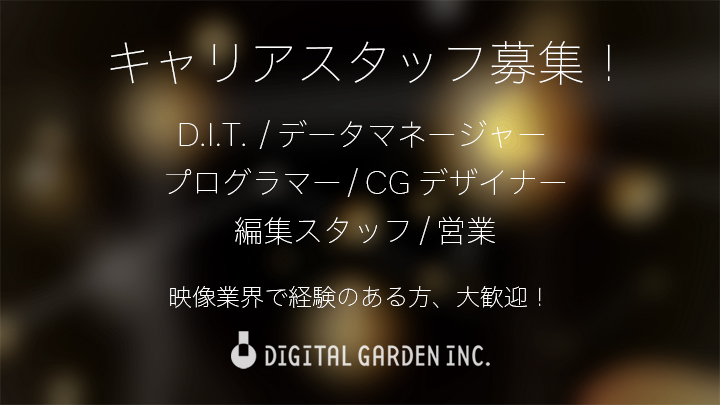 【募集職種】
①D.I.T. / データマネージャー
②プログラマー
③CGデザイナー
④メイン編集スタッフ(コンポジター)
⑤編集アシスタントスタッフ
⑧カラリスト
⑨営業スタッフ
【勤務地】
広尾(東京メトロ日比谷線 広尾駅)
休日・休暇 週休2日、年末年始、慶弔休暇、有給休暇
勤務時間 9:30~18:30
給与 当社規定により、話し合いの上決定します。
待遇・福利厚生 昇給年1回、交通費支給、各種社会保険完備。試用期間あり。
【応募方法】
履歴書と下記の応募書類を同封のうえ、郵送してください。
書類選考後、面接日をE-Mailにてお知らせします。
(必ず希望職種とメールアドレスを明記してください)
【応募書類】
1.履歴書(写真添付、メールアドレス明記)
2.職務経歴書
3.作品(DVDで映像作品、CGデザイナーはデッサンを含むポートフォリオも)
※CGプログラマーは任意、営業スタッフは作品不要
**作品提出方法**
□圧 縮:H.264
□サイズ:1280×720
□時 間:3分以内
※作品集はDVD-videoではなくh264の動画データにしてDVDに書込んで提出してください。
※尺の長い作品はダイジェストのような形に編集し、複数の作品がある場合でも1つの動画データにまとめトータルで3分以内としてくだ さい。
※各作品の解説(制作意図、担当パートなど)も資料としてPDFで添付して下さい。
【郵送先】
〒150-0012 東京都渋谷区広尾5-6-6 広尾プラザ7F
株式会社デジタル・ガーデン 採用係
【問い合わせ先】
こちら より送信してください。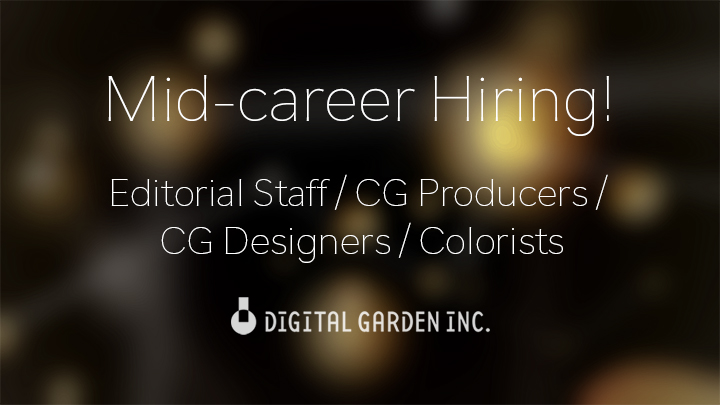 【Current Openings】
1. Editor, Editorial Assistants (Online and Offline) *Business level Japanese is requird.
2. CG Producers, CG Designers *Business level Japanese is requird.
3. Colorists *Japanese speaker is preferred.
【Hiring Location】
Hiroo (8mins walking distance from Tokyo Metro Hibiya Line Hiroo Station)
【Holidays and Vacations】
Saturdays and Sundays, National holidays, Compensated absence, Year end and New Years.
【Hours】
9:30~18:30
【Salary】
Based on company regulations and standards.
【Employee Benefits】
Trial period,Performance-linked bonus,Transportation fee,Various social insurance.
【How to Apply】
1.Please send us an email from here.
We will respond by E-mail.(Please don't forget to put your E-mail address.)
2.Submit your resume with following documents.
[Essential Documents] 1.Resume(with photo and E-mail address)
*Please include your Japanese(Communication and Writing level)skills on resume.
*Please include if you posess the working VISA or not.
2.Work Experience
3.Demo Reel(Portfolios,DVDs,Vimeo links etc.)
*Demo reels are optional for 2. CG Producers but required for 1.Editorial,2.CG Designers and 3.Colorists.
【Contact】
If you have any questions or concerns, please send us an email from here.